5 Things To Note About The 2017 Nissan Sentra Nismo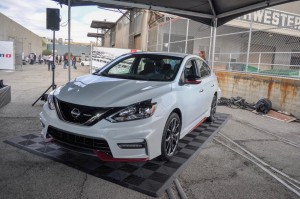 For the 2017 model year, Nissan is upgrading its Sentra Sedan through the work of its in-house tuner, Nismo. This was introduced ahead of the planned launching at the 2016 Los Angeles Auto Show on Wednesday.
Here are 5 things you need to know about the Nismo-tuned Sentra based on a source:
1. Concept form Was Previewed In 2013
Back during the 2013 Los Angeles Auto Show, Nissan gave us a glimpse of the concept form for the Nissan Sentra Nismo. The problem is, this production version missed out on what the concept has boasted about—240 horsepower. Instead, this Nismo-tuned Sentra will be founded on the Sentra SR Turbo's setup, which is only good for 188 horsepower.
This will be paired with a front-axle drive and either a 6-speed manual or CVT.
2. "Sporty" Feel Was Fine Tuned
Where Nissan focused was on making sure that the car has a sporty feel to it. Its engineers enhanced the Sentra Nismo's performance based on aerodynamics, body reinforcements and suspension tuning. They also added some features interior-wise to add to that sporty feel.
3. Chassis Was Adjusted For Sturdier Feel
The Sentra Nismo now has a chassis that has monotube rear dampers and unique tuning on the front springs and struts. They also added stabilizer bars at the front and rear for sturdier driving. The car's electronic power steering is also fitted with Nismo calibrations for a sportier feel.
4. Nismo Red Accents Were Added In The Exterior
Nissan wants the Nismo to appeal to sporty individuals. As such, they have to tweak the exterior a little bit by making it more aggressive. The Nismo body kit includes Nismo's signature red accents. It also has 18-inch wheels with Michelin Pilot Sport and 11-inch housing ventilated brake discs at both ends.
The Sentra Nismo comes in four colors: Brilliant Silver, Gun Metallic, Super Black and Aspen White.
5. Interior Receives A Special Treatment
Inside the Sentra Nismo, there are Nismo logos and extra-bolstered seats with red stitching. The sportier steering wheel is wrapped in Alcantara and leather trim. Completing the "special treatment" is a dark headliner and Nismo logo on the instrument panel.
The interior color is charcoal with red accents.