5 Things We Noticed About The 2018 Toyota Camry Introduced In Detroit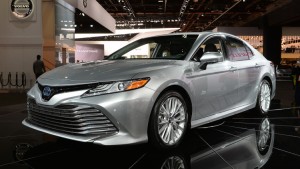 The 2017 Detroit Auto Show is where Toyota finally unveiled its redesigned 2018 Camry. Being the only sedan that maintained huge sales in the American market, the Toyota Camry has always been impressive.
Now that it has been redesigned for innovativeness and style, we can only imagine how the Camry will once again come on top of sedan sales.
1. Dimensions
Curiously enough, Toyota made the Camry 0.7 inch wider with the wheelbase two inches longer, and the roof and hood height lowered by one and 1.6 inches, respectively. The front and rear hip points have also been lowered, giving the new Camry a sportier look than its predecessor. Inside, even the dashboard has been lowered significantly to maintain visibility.
2. Driving Dynamics
To provide better driving experience, the new Camry has been bolstered, something that the Japanese automaker already did for the model during its mid-cycle refresh back in 2015. There's a new double-wishbone suspension and four-point engine that reduce noise, vibration, and harshness.
Toyota swore that drivers will notice the improved dynamics the moment they sit on the driver's seat.
3. Powertrains
The vast majority in the lineup will get the 2.5-liter naturally aspirated four-cylinder "Dynamic Force Engine." Compared to the current model with a 2.5-liter engine as well that produces 178 horsepower and 170 pound-feet of torque, the new Camry is slated to be more powerful. It will also be competitive in terms of fuel economy.
There are two other powertrains: the 3.5-liter V-6 to be shared with the Highlander and Sienna and the Hybrid. Options for the V-6 include a four- or six-cylinder paired with a new eight-speed automatic transmission.
The Camry Hybrid has the new 2.5-liter four-cylinder engine with a revised CVT that features a new Sport mode with simulated six gears.
4. Interior
The new Camry has these features: 7-inch gauge display, a 10-inch Head-Up Display, and a center stack controls with the latest Entune 3.0 touchscreen.
5. Pricing
There are no pricing details yet, but let's wait and see if we'll get something out of its introduction at the 2017 Detroit Auto Show. The new Toyota Camry is expected to start its deliverables in late summer 2017.
Photos
Check out the photos of the new Camry in the gallery below: