5 Things We Should Expect From The 2020 Volkswagen Golf Mk8 GTI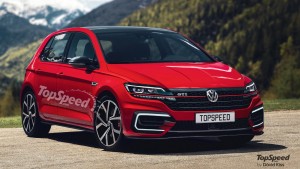 Rendering of the 2020 Volkswagen Golf MK8 GTI from TopSpeed.
After four long years, German automaker Volkswagen is finally ready to uncover the next-generation Golf GTI in 2019. As one of the most popular hot hatchback out there, it's only a matter of time before folks at Volkswagen decide to update the Golf GTI, especially considering that Ford is already working on a new-generation Focus ST.
Not much is known about the 2020 Volkswagen Golf MK8 GTI  performance hatchback, but it should have most of the styling cues found on recently introduced Volkswagen models, including the sporty Arteon sedan.
Exterior
The 2020 Volkswagen Golf Mk8 GTI will get the company's latest design package, which means larger front grille, bigger headlamps, and a more aggressive bumper. The GTI package will also come packed with a honeycomb mesh instead of the horizontal slats in the grille. There's also the traditional red stripe on each side of the logo.
Designers over at Volskwagen also added C-shaped LED lights on the air vents on each side of the lower grille. The Golf Mk8 GTI is also a bit longer and wider than the previous generation.
Interior
We don't have any spy photos of the interiors of the 2020 Volkswagen Golf Mk8 GTI, but the latest in Polo and Touareg models provided us some hints. It has a much cleaner dashboard with rectangular vents at the corners and in the center stack. It will also get a bigger infotainment screen, a new steering wheel, revised seats, new upholstery and materials, as well as enhanced room for rear passengers.
Performance
The upcoming Golf GTI will use the updated version of the company's MQB platform and will help shed off about 70 kilograms off its weight. It will continue using the 2.0-liter four-cylinder engine that can produce more than 250 horsepower, though no exact figure has been revealed. Other technology to help in the performance will include engine-off coasting, an integrated starter-motor and generator, as well as electrically driven turbochargers.
Prices
No pricing information has been announced yet but the outgoing model is priced at $26,415, so the Mk8 model could be sold for $28,000 before options. The production of the eight generation Golf will begin in June 2019, so the GTI could be launched before 2019.
Competition
The 2020 Volkswagen Golf Mk8 GTI direct competitors are the Ford Focus ST and the Hyundai I30 N.