Top 5 Facts About The 2017 Bentley Mulsanne by Mansory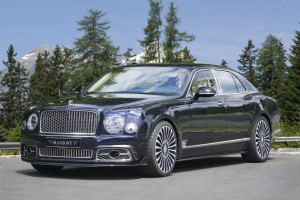 How will you make the 2017 Bentley Mulsanne better? German tuner Mansory has a history of outlandish designs courtesy of the Siracusa kits for the Ferraris, the Carbonado kits for the Lamborghini, and the Bentley Continental Vitesse Rose in 2009.
The Mulsanne is a massive project but if you're expecting to see equally an outlandish tuning program, you'll be sorely disappointed. Mansory, for the first time, decided to go another route based on a report by TopSpeed.
1. Exterior
The exterior update on the Bentley Mulsanne is made up of an aerodynamic kit that features a new front lip and air inlet covers. There are new side skirts, new rear lip spoiler, and a diffuser insert placed at the back. All of these are made with carbon fiber, though the most stunning upgrade on this particular section of the car are the massive M8 light-forged aluminum alloy wheels. They are 22 inches and wrapped in high-performance tires that measure 285/35ZR22 in the front and rear axles.
2. Interior
Mansory did not give hints on how it treated the interiors of the Mulsanne, though they are very specific with the materials they used on it like premium leather, Alcantara materials, brushed aluminum, carbon, handcrafted embroidery, and piano surfaces.
3. Drivetrain
In the past, Mansory was responsible for the 800 horsepower output of the Ferrari 488 Spyder and the 1,600 horses from the Lamborghini Aventador. You think the tuner would bring the same power to Mulsanne? Based on the tuning program, the Mulsanne will only up its horsepower by 73 ponies, bringing in a total of 585 horsepower. It will also add 49 pound-feet of torque for a total of 811 pound-feet of torque.
4. Pricing
There are no pricing details for the Mansory-tuned Mulsanne, though we expect the base model to start at $300,000 with the tuning program adding a $50,000 price tag.
5. Competition
It's difficult to pinpoint a direct competitor of the Bentley Mulsanne. Cars like these are usually a cut above the rest. Perhaps, the closest competitor is another tuning program—that of the Mulliner, Bentley's own personalization division.