5 Things You Need To Know About The All-New Ford Focus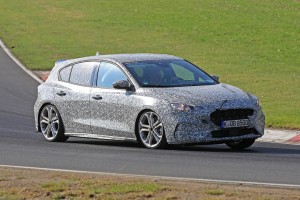 The new Ford Focus is taking over everything in Europe. It's new. It's a fan favorite. Everyone's clamoring for a piece of the hot action. It's set to be Britain's best-selling cars, which is a lot to say considering the massive options that the British have.
1. C2 Platform Made Everything Possible
Ford's global divisions got together and discussed what they expect from the new Ford Focus. From there, the designers and engineers worked to come up with the C2 platform. It is roomier and stronger than the old one, but it is notably a lot lighter.
2. There Is More Space
Thanks to the stretched wheelbase, there is more rear legroom and a space under the floor of the boot to store the internal roller-blind. Essentially, the front seats have been redesigned to give rear dwellers more space for their feet. They can also see better outside the windows because these have been stretched rearward into the pillar. The new Ford Focus is just 18mm longer despite all this new-found space.
3. New Dashboard And Better Specs
The new dashboard has a cleaner and more streamlined look. It was moved forward to give better space for the driver and the passenger, though it is still easily reachable and accessible. The touchscreen, all of its eight inches, is mounted high and runs Ford's Sync 3 system. If that's not your cup of tea, you can mirror your phone through CarPlay. There's a B&O Play music system and a wireless charging option, too.
4. It Has An Embedded SIM
Like the Astra, the new Focus has an embedded SIM card, which allows it to receive high-definition live traffic updates. It can run several navigation and shopping apps, making it easier for you to arrive at your destination. This same data connection can also act as a hotspot. From your phone, you can manage the car and do several things like lock and unlock.
5. New Petrol Engines
The new Ford Focus will likely have a 1.0-liter Ecoboost, which will come in options of 85, 100, and 125bhp. It will have just 108g/km CO2 even in the strict new WLTP test. The bigger petrol engine, a 1.5-liter, will have either a 150 or 182bhp. For economic use, the three-cylinder machine can shut down one of their cylinders to eliminate the losses of pumping air.
Photos