6 Quick Facts About the Jaguar I-Pace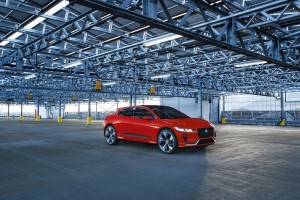 The Jaguar I-Pace finally makes it to the 2017 Geneva Motor Show. Although the electric vehicle is still in its concept form, the photos and information released about it were great so far.
Check out the 6 quick facts about the new Jaguar I-Pace here based on a source:
1. Debut
The I-Pace Concept first appeared at the 2016 Los Angeles Auto Show. It marks its arrival in Europe at the 87th Geneva Motor Show.
2. Power Unit
The electric sport utility vehicle is powered by two 200hp electric motors. The power units generate a total of 400 hp and 516 lb-ft of torque. The output lets the auto accelerate from zero to 60 mph in just four seconds.
The EV is equipped with liquid-cooled 90 kWh battery with cells from LG Chem. The battery pack allows the SUV to cover a range of more or less 220 miles from a full charge.
The I-Pace also features at least 50 kWh DC fast charging with CCS Combo that takes it to 80 percent charge in just 90 minutes and full charge at around two hours. Jaguar offers an optional 7 kW home charging point too for the convenience of its customers.
3. Exterior
The Jaguar concept EV retained its look when it was introduced in LA last year. The auto resembles the shape of the Tesla Model X but with the styling elements found in the Jaguar F-Pace.
The I-Pace is 184 inches long and 74.4 inches wide. This time, the I-Pace comes in photon red paint finish similar to the image shown above.
4. Interior
The I-Pace offers a lot of space in its cabin thanks to the low positioning of its battery on the front and rear axle. The vehicle has a five-seating capacity. Again, the interior mirrors many things found in the F-Pace.
5. Tech
The notable tech features within the I-Pace include a 12-inch touchscreen, 5.5-inch touchscreen for infotainment and climate control, Wi-Fi hotspot plus improved connectivity for onboard and smartphone apps.
6. Photos
Check out the official photos of the Jaguar I-Pace in the gallery below: