8 Things to Know About the Opel Crossland X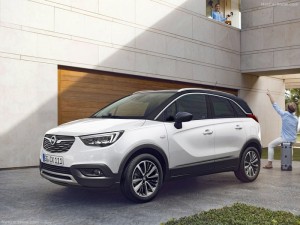 Opel changed its mind about the venue for the debut of the Crossland X. The automaker has finally decided to introduce the vehicle live to the public for the first time at the 2017 Geneva Motor Show. It should be noted the company stated earlier that it will be keeping the unit away from the event to focus on its Insignia range.
Based on sources, here are the key features of the Crossland X:
1. Model Year
The vehicle will carry a 2018 model year when it comes out.
2. Classification
The Crossland X is classified as a crossover utility vehicle. It possesses the same platform found in Peugot's 2008 compact SUV. Unlike the more rugged Mokka X, which is built for off-roading, the Crossland X is designed for urban driving.
3. Engine
Not much has been officially revealed yet about the engine of the Crossland X. However, according to a source, it will have two engine trims. One will be packing 1.2-liter petrol unit and the other is a 1.6-liter diesel unit.
4. Size
The Crossland X is 4,212 mm in length, 1,765 mm wide and 1,590 mm tall. Its measurements are more than the Mokka X.
5. Interior
The Crossland X is more spacious than the Mokka X making it a nice option for a family vehicle. Among the notable features found in the interior of the auto are sliding rear seats, climate control system, cruise control system, touchscreen infotainment system and compatibility with either the Apple CarPlay or the Android Auto.
6. Sale
The Crossland X is expected to appear in showrooms in summer this year. It will likely cost less than the £17,640 price tag of the Mokka X.
7. Competition
The crossover utility vehicle of Opel will rival the Renault Captur and the Peugeot 2008 when it comes out in the market.
8. Photos
Check out the official pictures of the Opel Crossland X in the gallery below: