8 Things You Can Expect From The 2019 Toyota RAV4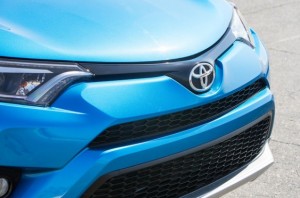 The Toyota RAV4 is looking to claim the best-selling crossover for the Japanese brand. It has surpassed Camry in sales during the first half of 2017, so we are looking forward to what it has in store when the upgraded 2019 Toyota RAV4 finally arrives.
1. More Powerful
The 2019 Toyota RAV4 is going to be powered by a four-cylinder engine though without a turbocharger. The current RAV4 can produce 176 horsepower and 172 lb-ft of torque, and it is fitted with an eight-speed transmission.
2. Another Hybrid
The 2019 Toyota RAV4 Hybrid will be coming back to compete with the Rogue hybrid and the introduction of the CR-V Hybrid that will be arriving in US shores soon.
3. Fuel Efficient
The 2019 Toyota RAV4 promises to be more economical in terms of its use of fuel. Currently, the 2017 RAV4 is EPA-rated at 23/29-30 mpg city/highway with front-wheel drive and 22/28 mpg with all-wheel drive.
4. TRD Sport Variant
The 2018 Toyota RAV4 Adventure introduced a Top Prep package that featured few visual upgrades, making the RAV4 Adventure different from the usual RAV4 though not that much. Toyota is trying to increase the reach of its TRD sub-brand, so we might be seeing a RAV4 TRD Sport trim or another RAV4 Adventure model.
5. Roomy Interior
You will be surprised at how much space the new RAV4 can offer you. It has one of the roomiest interiors ever seen in a crossover, though the RAV4 will begin switching to a new TNGA architecture.
6. Platinum Models
For those who want the Platinum trim, you can expect a premium experience with its rear-seat vents, panoramic glass roof, a color head-up display, and rear cross-traffic braking.
7. Driving Experience is Better
This new midsize sedan was much more improved in terms of driving and handling experience. The competition remains to be the Mazda CX-5 and Honda CR-V.
8. No RAV4 Two-Door
There's no way the RAV4 would have a two-door version again because Toyota doesn't look like it would sacrifice the spaciousness we've come to love with the RAV4.