A Look at the Features of the Porsche Taycan EV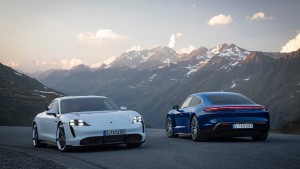 Porsche just entered the electric vehicle fray with its new Taycan. The new Porsche Taycan is offered in two trims and it is scheduled to be sold in the market in December 2019.
The Porsche Taycan aims to be a strong entry in the EV market with its slew of amazing features. Here is a quick look at the highlights of the auto:
Performance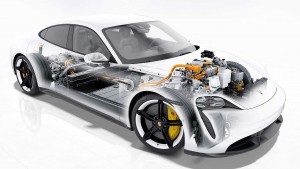 Initially, the Taycan is available in Turbo and Turbo S trims. A Turbo Cross Turismo is slated for next year.
The Taycan has one electric motor for the front axle and another at the rear axle. Porsche utilizes permanent-magnet synchronous motors that have permanent magnets situated between the rotor and stators. The feature makes the auto very expensive to produce but it provides a smaller, lighter and more efficient design compared to other EVs.
Both the Turbo and Turbo S offer 616 hp but taking into play their launch control systems give the two 671 hp and 751 hp, respectively. On the other hand, the torque of the former is 627 lb-ft while the latter produces 774 lb-ft.
The 0-60 mph acceleration of the Turbo is 3 seconds and the Turbo S is 2.6 seconds. Both trims have an electronically-limited top speed of 161 mph.
A 93.4 kW lithium-ion battery takes the Turbo by around 237-280 miles on the WLTP scale on a full charge. The Turbo S can reach 241-256 miles. The 800v electric architecture of the Taycan can hold up to 270 kW of power and it can be charged from 5 to 80 percent in 22.5 minutes.
Design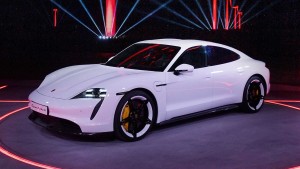 The Taycan carries the distinctive design of the current Porsche cars. It has a 5,100 lb curb weight but it feels very agile and it has a good downforce. It should be noted that the car has a drag coefficient of 0.22.
The Taycan has a rear spoiler with three settings to improve airflow. Cooling flaps also help keep the car firm on the ground.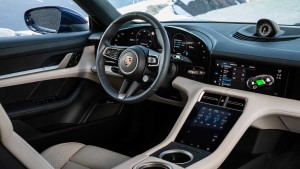 Going inside the car reveals a dashboard dominated by displays, including a 16.8-inch curved display on top of the steering column. At the center is another 10.9-inch touchscreen embedded in the dashboard.
Pricing
At their base configurations, the cost of the Taycan Turbo starts at $153,310 and the Turbo S begins at $187,610.