A Look at the Major Changes in the 2020 Hyundai Tucson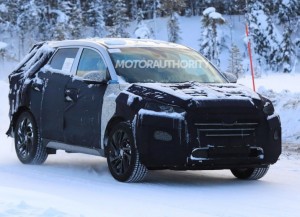 Spy shots of the prototype of the 2020 Hyundai Tucson revealed major changes are in the works for this next-generation compact SUV from the South Korean brand. The prototype showed that there are a number of updates on the exterior and the cabin of the popular SUV.
The changes are quite significant, according to a report on Motor Authority, as there will be new lights and a new grille even. Based on the hints we're getting, we won't be surprised if we get a Tucson that follows some of the details and changes on the new 2019 Hyundai Santa Fe. We all know there was a huge positive reception to the Santa Fe, so what's stopping the South Korean automaker from making similar changes to the Tucson?
Inside the cabin, the center stack was completely redesigned by foregoing the integrated infotainment screen on the current Tucson and replacing it with a tacked-on screen. This is a design that Hyundai has been introducing on its latest models.
There's no word yet on whether there will be upgrades on the powertrains but what's on the current Tucson model might be carried over to the 2020 model. They're all pretty okay, so far. This means that buyers will have the option to choose between a 2.0 liter inline-4 that can produce 164 horsepower or a 1.6-liter turbo inline-4 with 174 horsepower on tap.
Admittedly, there are still a lot of missing information here. But hopefully, we get more details as the plans for Tucson emerge. It is, after all, due for a release next year as a 2020 model.
Like many automakers, Hyundai is heavily investing on its line of SUVs and compact SUVs. The Kona was recently launched and the new Santa Fe will soon be available in showrooms. Another update from Hyundai is that it's currently working on a three-row SUV.