A Look at the Spy Shots of the 2018 Ford Mustang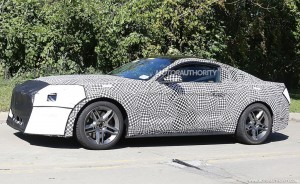 Photos for the prototype for the facelifted Ford Motor Company Mustang have just been revealed. Since this is a facelift, the visible tweaks were expected to be only minimal. Still, Ford engineers went to great lengths to try to conceal whatever changes they did on the Mustang.
Based on the photos released, tweaks in the 2018 Ford Mustang are expected on the headlights. And although the shape of the enclosure won't be changing, the internal graphics will likely be updated along with the headlamps. As for the front bumpers, expect a totally revised look, the most dramatic change being an all-new design for the lower section of the bumper. The said design will take on an "A-wing" shape for the front splitter.
As for the car's performance, fans might be interested to know there will be some mechanical changes such as a new 10-speed automatic, which will appear on high-end models, developed by Ford and General Motors Company. The current 6-speed and automatic will be maintained for lower-spec cars.
The 10-speed automatic has already been used for the 2016 Chevrolet Camaro ZL1, which apparently experienced quicker shifting than Porsche's dual-clutch transmission. A 6-speed manual, though, will remain standard on most Mustang models.
The current lineup of engines will most probably remain, except for some adjustments to improve power and gas mileage. The Mustang V-6 enjoys a production of 300 horsepower while the Mustang EcoBoost has 310 horsepower. The Mustang GT can cough up a stunning 435 horsepower while the Shelby GT350 and GT350R models produce 526 horsepower.
We're expecting this Ford Mustang model to arrive in 2017 as a 2018 model after the sixth-generation Mustang made its final appearance in 2014 as a 2015 model. A new Mustang Shelby GT500 will also be arriving in 2018 as a range-topper model.
More updates will come in the next months. The Mustang maintains a strong lead over the Camaro in the past 22 months. In August 2016, Ford sold 8,299 Mustangs while Chevy released 5,604 Camaros.