A Look at the Top 3 Features of the New BMW X2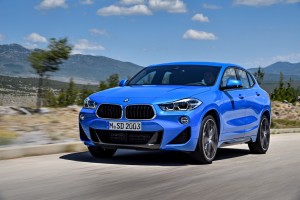 Finally, the gap between the X1 and the X2 has been filled by the BMW X2. The rumor mill has been stirring up since 2011 about a crossover from the automaker, but it's only now that we see what the fuzz is about.
1. Design
Last year, we saw the concept model of the vehicle at the Paris Auto Show. Not long after, spy shots of the X2 have began appearing. It seems that the production version of the crossover didn't go far from its concept model.
The X2 carries many elements found in the X1. The fascia of the two are almost alike. However, the similarities end with the more aggressive look of the X2, thanks to its coupe-like appearance. After all, the X2 is supposed to be the most sporty-looking variant of the X series.
A closer look would also reveal several updates in the headlamps, taillights, body lines and bumpers of the X2. The vertical slats in the kidney grille of the vehicles are different too. Then, the hatch of the X2 at the rear is smaller than the X1 because of its lower roofing.
The interior of the two are almost the same. Not counting the difference in the legroom of the two, the only noticeable changes in the aesthetics were the steering wheel and the shifting lever, but it is expected that the interior design updates in the X2 will eventually trickle down to the X1.
2. Engine
The X2 shares the same powertrains offered by the X1. At launch, the available trims are the petrol-fed 2.0-liter four-cylinder engine front-wheel drive with 228 hp and two diesel all-wheel drive variants with around 118 hp or 228 hp. More options will be offered by BMW in 2018.
3. Pricing
The starting price of the X2 is £33,980. That will get you the 20d SE model. The X2 can already be ordered this November.