A Vision For The Future: MINI Concept Vision 100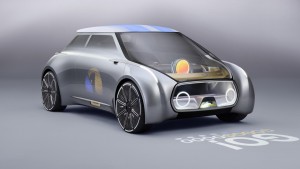 In an ideal world, all cars would be personalized and will reflect our personality. MINI wants exactly that, so it made known its vision of the future—a car that can become yours instantly.
Imagine driving your own car to the airport. Boarding a plane to be halfway across the world. Rent a MINI wherever you might be. Ride the car and it's instantly the same car you left back home.
How would that come to be?
The MINI Concept Vision 100 is one in the series of cars for BMW Group's centenary. Chief designer Anders Warming said MINI owners are connected emotionally to their cars. In the future, they want their clients to be digitally connected to their MINIs as well.
According to a report, it works just like how your smartphones works when you change phones. There's a backup system in the cloud that stores your preferences—apps, travel history, etc. The car can even reflect a color hue to reflect your favorite artist. Can you imagine how more personal your car can get?
Personalization is the heart of this MINI concept. The system knows who you are, what you like and where you're going. The MINI will also have a "digital skin," so it can change the graphics on the exterior of the car, reflecting your own unique personality.
MINI said the car will be able to recognize you because of the enhanced sensor systems that it will be equipped with. This by simply having an app on your phone that can connect to the MINI's system.
The idea behind this is that in the future, car sharing will be a norm and you don't have to even own a MINI. Such a concept will boost one's loyalty to a brand since you'll be sharing a car but feeling like it's your own too.