Alfa Romeo To Add Full-Sized And Crossover SUVs In 2022 Lineup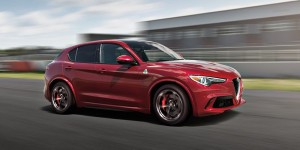 Given the growth of the crossover's popularity, it's pretty interesting to know that Alfa Romeo only has one crossover in its lineup, the Stelvio. That is about to change as the company revealed it will get two new SUVs—a crossover and a full-sized, three-row SUV—in 2022. That's four years from now, but let's hope that the automaker will fulfill its promise of two additional SUVs.
During the Fiat Chrysler Automobiles' capital-markets day in Italy, Alfa Romeo announced that in the next four years, investors and fans of the brand should be ready for the brand-new SUVs.
The subcompact SUV crossover will be in competition with the Audi Q3, BMW X1, and Mercedes-Benz GLA Class. The three-row SUV will try to take a chunk out of the market dominated by the Audi Q7, BMW X5, and Mercedes-Benz GLE Class. Alfa Romeo's Stelvio, on the other hand, is in direct competition with Mercedes GLC Class, BMW X3, and Audi Q5.
There are no details yet about these two new SUVs for 2022, but we can expect the full-sized SUV to use the rear-wheel-drive-based architecture of the platform currently used on the Giulia and the Stelvio. There will also be a hybrid powertrain seeing as this is a segment that Alfa Romeo is keen to enter.
The smaller crossover will use a front-drive layout that will be more space efficient considering that most crossovers could only fit in five people max. The platform is going to be shared with the upcoming Giulietta compact car.
In the past, there have been problems about Alfa Romeo's ability to meet its deadline (sounds familiar, Tesla?), and this ambitious new project could meet some surprises and challenges along the way, too. Alfa Romeo is working to reenter the US market, and this could be the trigger that would reopen the door. There's going to be a new GTV and 8C sports car, too.