All New 2015 Cadillac Escalade
This is the all new fourth generation of Cadillac's default flagship. The fully redesigned Cadillac Escalade, which looks to reclaim some ground for the signature SUV that was once a leading vehicle in its segment. The 2015 Cadillac Escalade defines new level of luxury to the fourth generation of the brand's largest and most daunting vehicle. Holding its roots firm to the old school Cadillac grounds the new Cadillac Escalade is massive and without any compromises. The new SUV from Cadillac is less a truck and more a caddy with a V8 and has been dramatically transformed in design and quality and will be much differentiated from the related Chevrolet Tahoe/Suburban and GMC Yukon models.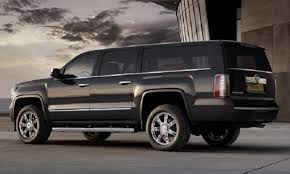 The 2015 Escalade is offered both as a conventional sport utility vehicle and the plush, extra long eight-seat Escalade ESV version. On the outside, the new Cadillac Escalade retains what the Escalade has always been about. A humungous sport utility vehicle that shares quite some amount of its basic structure and running gear with its Chevy and GMC siblings! However, what completely transforms the new Escalade is the strikingly new and improved technology and material. The 2015 Cadillac Escalade is big and it is bold. The luxury SUV sports clear and classy lines and a full LED lighting rear and front façade. With aluminum hood and tailgate, the Escalade uses active grille shutters to significantly reduce the drag and effectively increase the fuel efficiency for the massive sports ute. Coming standard with 20 inch wheels, the Escalade also gives an option of 22 inch. While the extended ESV Escalade is 224 inches long the standard 2015 Cadillac Escalade is a modest 204 inches. The beasts can tow from 7,700 to 8,200 pounds, depending upon the configuration.
Talking about the power, the standard 2015 Escalade is powered by a 6.2 liter V-8 engine generating massive 420 horsepower. The engine produces a whopping 460 pond feet of torque and is mated with a six-speed automatic transmission. A new addition is the direct fuel injection and cylinder shut-off that translated to better fuel efficiency. Just like its predecessors, 2015 Cadillac Escalade comes in rear-wheel-drive and four-wheel-drive versions. On the inside, the new Cadillac Escalade looks amazingly classy and sophisticated an impressive choice among various accents.
The 2015 Cadillac Escalade will debut this fall and is expected to be priced at about $65,000 and above. The masculine and gigantic luxury SUV will be a direct competition to the GMC Yukon Denali, Infiniti QX80 and the Mercedes Benz GL-Class.