Arash AF8 Cassini To Launch At The 2016 Geneva Motor Show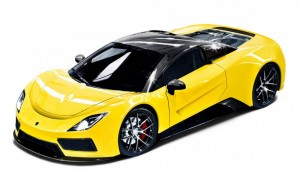 Over the weekend, British supercar marque Arash announced that it is bringing an updated version of its AF10 flagship at the Geneva Motor Show next month. But the drivetrain that packs a reported V-8 and four electric motors for a combined power of 2,000 horsepower has a price tag of at least $1,584,500, so only super millionaires can get their hands on it.
Fortunately, Arash has another gift for car enthusiasts all over the world based on a report from Motor Authority. It is bringing a more attainable car with the AF8 Cassini, an evolution of the first AF8 we saw back in 2014. This one will cost approximately $239,500.
In terms of mechanical package, it hasn't changed much, but the AF8 Cassini has a more sleek-looking rear than the AF8.
It also features a tubular steel chassis with carbon fiber reinforcements and crash structures and a 7.0-liter LS7 V-8 sourced from General Motors Company. It has a maximum peak of 550 horsepower, and peak torque of 476 pound-feet. Via its six-speed manual transmission, its drive is to the rear wheels.
This means the Arash AF8 Cassini can accelerate from 0 to 60 mph in 3.5. It also has a top speed of 200 mph.
The interior has all the makings of a modern supercar—a carbon fiber and leather trim, a touchscreen infotainment system, a heated windscreen, and air-conditioning, of course. But if none of these trimmings suit your taste, you can get the stripped-out version made for track use. That way, you can customize the interior of this supercar according to your liking and personality.
The 2016 Geneva Motor Show is set to open its doors on March 1. This means we all have about a week to consume all the details about the various supercars that would be launched there. The Arash AF8 Cassini, with its super engine and gorgeous exterior and interior detailing could steal the show easily.