Are We Looking At The Upcoming 2020 Ford Bronco?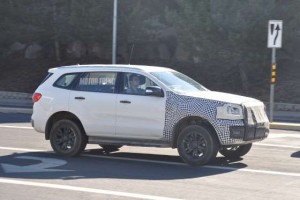 Ford earlier said that the Ford Bronco would arrive in 2020 and the new Ranger a year before that. And though we're all excited on what could possibly be in store for us in the next two years, no details have been released and we're left to imagine how the Bronco would look like.
You can't really blame car enthusiasts because this is the first time Ford is diving into the new midsize trucks competition. The Bronco will give the Chevrolet Colorado, the Toyota Tacoma, and the Jeep Wrangler a run for their money… and yet, that's not until 2020.
We kept on thinking how the new Bronco would like. Would it be similar to the concept Ford showed off in 2004 or how about the Brazilian-market Ford Troller, which has a boxy and utilitarian off-road look? Then again, there's the Ranger-based Everest, a family-friendly SUV.
The spy photos shown here look like a warmed-over, right-handed Everest, which is why a lot of Bronco enthusiasts are scared that it is what exactly we might be getting in 2020. Raj Nair, Ford's chief technical officer, was quick to clarify these reports. Back in January, he told Autoline that Ford does not plan to make the Bronco similar to the Everest.
The new Bronco will be completely "unique" from the Everest, he said. The front end was covered in checkered camouflage, so we're thinking Ford doesn't want us to see something new on the front. But since most of the SUV is undisguised, we're sure the production model would look very different.
For now, as mentioned by an "inside source" a few months ago, we can assume that the new Bronco would look similar to Brazil's Troller, albeit the former will be a four-door version. Although we would love to see a two-door Bronco, there's not much market for a two-door midsize SUV, so we'll be contented with a four-door version if that's what it takes.