Are You Ready For The New BMW M8 This September?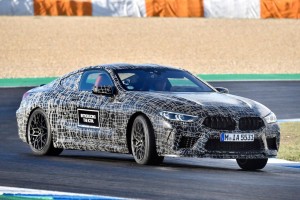 The all-new BMW M8 Performance coupe, with its 600+ horsepower and twin-turbocharged V8 engine, is scheduled to make its grand debut at the 2019 Frankfurt Motor Show in September. Are you ready for it?
The new M8 Performance coupe is at the tail end of its development program. It has been testing its power output at the Estoril circuit in Portugal and BMW has even made available a list of performance enhancements that it plans to fit into the new M8.
BMW plans to launch its flagship M car, which looks to be the most powerful road car the German automaker has ever produced, together with the latest M3 sports saloon and the new M135i hot hatchback.
The new M8 is powered by the same 4.4-liter twin-turbocharged V8 engine as the BMW M5. The engine is paired with an eight-speed automatic transmission, as well as the company's xDrive all-wheel-drive system, which will reportedly be rear-biased (similar to the M5). There will be two power outputs available—the base model can generate 600 horsepower while the Competition variant will make 625 horses.
The M8 coupe will be joined later on by a convertible and a four-door Gran Coupe. These were all hinted upon us by the M6 Gran Coupe concept back at the 2018 Geneva auto show.
Aside from the power output, the M8 will also get a reduced curb weight, a wider track, a lower center of gravity, increased body and chassis rigidity, and revised steering and suspension setup.
There's still no word on how fast the new M8 will get to 62 mph from a standstill, as well as the car's top speed. However, BMW did say that the car's combined fuel economy rating will be in the 26 mpg region. CO2 emissions are expected to be somewhere between 243 and 246 g/km.