Aston Martin Built Vanquish Zagato; Now Sold Out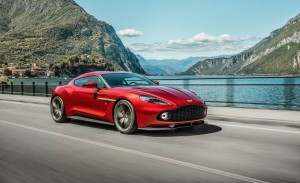 If you're one of the very few who were able to get their hands on the Aston Martin Vanquish Zagato, then count yourself very lucky. At the same time that Aston Martin announced its plan to build a limited-edition car, the company also said that all units had been sold out.
The Vanquish Zagato concept was first shown at the Villa D'Este concours in Italy last month. Aston Martin said there will only be 99 units built, and that they already have buyers for every last one of them. This, of course, is despite the fact that the price for this car would probably be way up there.
The last Z-badged Aston Martin was the V12 Zagato, which cost more than $500,000 back in 2011. Add to that five years worth of inflation, a lower production run, and the Vanquish's standard high price, then you've got yourself something not mere mortals can afford.
The Vanquish Zagato is based on the modified version of the mechanical package of the Vanquish. It, however, receives a unique carbon-fiber bodywork, as well as a "double bubble" roof. Supposedly, the "double bubble" will allow drivers to wear a helmet while driving the Vanquish Zagato.
Other features of this supercar are the front fenders with venturi-shaped air channels, bladed taillights at the back like the ones found on the Aston One-77 megacar, and a diffuser with quad exhaust pipes.
US buyers will have to content themselves with the V-12 engine similar to the one under the hood of the Vanquish. That means 576 horsepower that powers the Vanquish Zagato to go 0-60mph in just 3.5 seconds. The rest of the world would get the 600-horsepower version of the Zagato.
Deliveries of the Vanquish Zagato will begin in the first quarter of next year. Of course, we're only speaking to those who actually ordered it.