Aston Martin Reveals DBX As SUV Name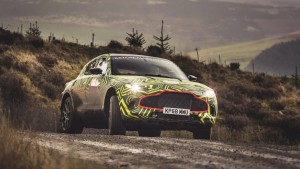 The Aston Martin DBX SUV is on its way and the company wants everyone to know that it can drive on dirt. It's official and we're bound to see the new SUV in the last quarter of 2019.
Aston Martin revealed photos of the prototype and they all featured the one thing we think the automaker wants us to know—that it's going to be good off-road and off the pavement. It's good to see that Aston Martin eventually decided to put rear doors on the SUV, something different from what we saw on the concept revealed in 2015. The rear doors made the DBX look like a conventional SUV but the front end will take care of making the DBX look as unique and interesting as it could.
The most obvious feature of the DBX is the V8 Vantage-style grille, which is considered to be the most outlandish feature of the Vantage. It certainly is memorable on the Vantage, though we're not sure yet how it will look on the DBX. The grille has a gaping feature that's lined with red paint, making the DBX look like a catfish. Fortunately, this isn't the production version yet so we're bound to see more changes in the future.
On the sides, it looks like a conventional SUV, too, though it gets funky on the rear thanks to two spoilers out there—one extending from the roof and another ducktail-looking thing coming out of the hatch.
For testing purposes, the prototype is being put through a Welsh rally stage, one of the many environments on which Aston said it wants the DBX to excel. Of course, this is going to be tested on the Nurburgring, too, but the DBX should encounter no problem with that.
The DBX will be built at Aston's new St. Athan facility in the UK. Although dubbed as the Home of Electrification, we doubt that there'll be an electrified version of the DBX. We can expect a hybrid but that's about it.