Audi Q5- No. 1 Compact Luxury SUV
Audi is always in news for its luxury and sophisticated cars. This time it's the 2014 Audi Q5 which is making news all over.  For Audi lovers and users, this new SUV came in as a pleasant surprise. This super Luxurious SUV, Audi Q5 is ranked number 1 among the luxury compact SUVs. The ranking is assessed based on the published reviews in magazines and newspapers, on the basis of test drives and safety and reliability data.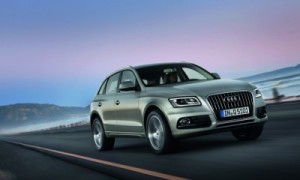 Audi Q5 2014 has been ranked high in various other categories like:
Second among the Luxury SUVs with 2 Rows
Third among the Luxury Crossover SUVs
With finest of interiors, a highly advanced base engine and swift handling, the reviewers have ranked the Audi Q5 2014 as the top luxury compact SUV.
It is a compact five passenger luxury model. The gaining popularity of SUVs among people has propelled the company to design them in all sizes and with all extravagances.
Car Features:
Audi group has always amused its users by putting forth creative and at the same time robust cars. The Audi Q5 2014 is a perfect amalgamation of agile mechanics and striking interiors. Let us look at some of its prominent features.
Technical
Turbocharged four-cylinder engine for excess power
Eight-speed automatic transmission
Optional supercharged V6 for strong acceleration
Turbo diesel V6 engine (Only in 2014 TDI model)
Mileage
The car scores exceptionally well on this parameter. Here are the exact findings as per the tech reviewers.
EPA-estimated 20/28 mpg city/highway
EPA-24/31 mpg city/highway(TDI model)
Interiors
Talking about interiors of the Audi Q5 2014, they are super attractive. The company has loaded this compact SUV with a dozen of features making it a best purchase.
Ultra comfortable front seats
Expansive rear seats
Spacious luggage space
Leather upholstery
Bluetooth phone connectivity
iPod integration
Tri-zone automatic climate control
 10-speaker stereo with surround sound
Audi's MMI infotainment system
Observing the features of the 2014 Audi Q5, it can be surely said that it is one of the highly advanced makes of the company.
"The face lifted Q5 is entering one of the most hotly contested segments of the market. However, it has a lot going for it, including build quality, which continues to outshine the SUV competition on a number of fronts." — AutoWeek (2013)
These very lines published in the Autoweek magazine makes the Audi Q5 2014 stand out in the league of compact SUVs. The Audi Q5 has been reviewed by numerous magazines that have published good reviews of it. The car is priced well suiting the pockets of those wishing to buy a compact SUV car. It is also ranked as the most affordable luxury SUV this year proving that it has been priced reasonably.
Reviewers say about Audi Q5 cost, "It plays well in cost of ownership evaluations because it depreciates slowly, gets high gas mileage and needs little maintenance."
So, simply test drive this luxury piece today and experience the whole world of sophisticated Audi.