Audi Releases 21-Foot, 6-Door A8 L Extended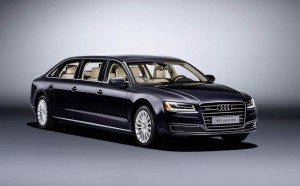 The past years have seen a number of automakers rolling out limousines straight from their factories. We previously enjoyed the S600 Pullman from Mercedes-Maybach and the Mulsanne Grand Limousine from Bentley.
Now, it's time for Audi to amaze us with the A8 L Extended.
Measuring 20.9 feet between its bumpers, the Audi A8 L Extended can carry up to six people according to a report. It has six doors, allowing each passenger to enter and exit the car to their convenience. This isn't a strategy usually employed by other limousine carmakers.
Inside the limousine, you'll find all seats facing the front and luxuriously lined in extra-supple Valcona leather. The first two rows are electrically adjusted individual seats. In the third row, you can find a center console with some included amenities such as an entertainment package and a cool box.
Suffice is to say that those seating at the back will most likely feel the luxury of riding in the limousine.
Creating the Audi A8 L Extended took almost a year. According to Audi, the main challenge has been ensuring the safety and the rigidity similar to their sedans or shorter wheelbase models.
The major changes in the A8 are the aluminum spaceframe architecture that include thicker side sills, extruded aluminum sections for the center tunnel, additional aluminum tubes and cross-braces for the roof, as well as a double rear bulkhead separating the passenger and luggage compartments.
These changes pushed the weight of the car to 5,330 pounds, although this is still lighter than the curb weight of the G90 of Hyundai's new Genesis luxury line. That one weighs 5,335 pounds.
For the drivetrain, the A8 L Extended has a turbocharged 3.0-liter V-6 that can produce 306 horsepower on an 8-speed automatic and all-wheel drive. This might be an average engine at best, but even with its size, the A8 L Extended can accelerate from 0-62 mph in mere 7.1 seconds. Top speed is at 155 mph.
Audi has so far made only one A8 L Extended for a customer in Europe. It's more or less looking like the brand will just build the limo by orders, though Audi said there might be more of the car in the market in the coming months.