Audi SQ7 Launched With New Tri-Turbocharged V8 Diesel Engine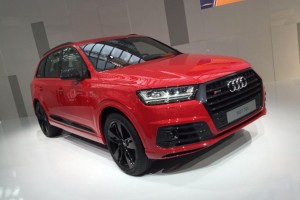 The Audi SQ7 has brought its game to new heights with the 435 bhp diesel SUV boasting a tri-turbocharged V8 diesel engine with 664 lb-ft of torque.
According to Auto Express, the SQ7 has plenty of speed and torque to impress even the most discerning of drivers. Its 435 bhp capability can get the car from zero to 62 mph in just under five seconds. That's all thanks to its V8 4.0 diesel engine with three turbochargers. Two of those are the usual exhaust-driven items while the third one is an electrically driven turbo.
The two turbos, mind you, are not a one-per-bank arrangement. Rather, they sit in the V—the first for light acceleration and cruising, and the second one for maneuvers that require "big efforts."
The third turbo, the electrically driven, is placed near the engine after the intercoolers. It is powered by a 48-volt motor, and uses 10bhp when running on full load. Audi said the technology ensures there would be no turbo lag, but remember that some belt-drive superchargers on petrol engines chug up to 100bhp.
There are two exhaust valves in each cylinder in this supercar, both of which are independently controlled. The first set is connected to the light-load turbo while the other set stays shut and can only be activated when the second set of exhaust valves come to life.
The SQ7 also has some advanced suspension control, and its anti-roll bars are the best for straight road driving. When in a bend, the 48-volt system recouple the bars to keep the car steady and allows the driver to maneuver it safely.
What more, the 48-volt system, used also in the Bentley Bentayga, is good for roll stabilization since it has a faster-acting reaction. It is lighter and more comfortable too.
Aesthetically, the SQ7 comes with LED headlights, new bumpers, more aluminum trim and special wheels. Inside, it has sporty seats and the S house style.
It will go on sale in May 2016 priced from around £70,000 with the first deliveries scheduled in August.