Audi To Launch 300-Mile Fully Electric SUV In 2018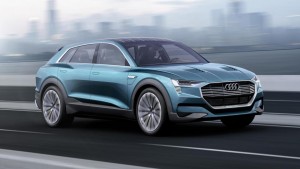 It's that time of the year again when Audi starts churning out reports on deliveries—said to be 1.8 million cars in 2015 and 620,100 in the first quarter of this year)—as well as big investment plans for the future. Prospective plans will start at €3billion in property and technology in 2016.
Then, of course, there's also news of a new car. Audi revealed it will begin launching a new EV every year starting 2018. The initial plan is to launch a sporty SUV that claims to have a range of more than 500 kilometers (310.69 miles). That's more than what the Tesla Model S, which currently stands at a highway range of 303.2 miles, can do. That is according to the US Environmental Protection Agency.
But this isn't much of a surprise since Audi announced at last year's Frankfurt Motor Show the arrival of the E-ton Quattro Concept, which will be in production in a few months' time. What's even better is that the production car will be patterned perfectly after the concept, which will have two electric motors—one for each axle with a combined 503bhp.
Audi also claims it would have 4.6 secs to 62 mph, 131 mph and that 310-mile range.
Although this isn't a surprising development, it's still nice to see Audi keeping its word.
Audi hinted of a new A8 too, which would be one of the 20 "new or upgraded" Audis to come out this year. The A8 is going to be the first car in the brand's history capable of "piloted driving."
Details are not exactly out there yet, but it looks like the A8 will be able to drive itself temporarily on motorways at speeds of up to 37 mph—a technology already available in the new Mercedes-Benz E-Class. It remains to be seen how Audi is going to utilize this same technology on its cars.