Battle of Top Speed: BMW M6 Gran Coupe Vs. Mercedes-AMG E63 S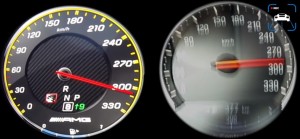 The 2017 models of the BMW M6 Gran Coupe and the Mercedes-AMG E63 S surely scream "high-performance". Being products of the top producers of luxury vehicles in the world, many car enthusiasts dream about having one of them in their garages.
In the video posted below, we will see how the two fare in terms of their top speeds. But before that, let us take a look at the engine specs of the two.
BMW M6 Gran Coupe
The Bimmer packs a 4.4-liter twin-turbo V8 engine. The unit has an output of 600 hp and 700 Nm of torque. The numbers push the auto from a standstill to 100 km/h in just 3.9 seconds. The top speed of the car is electronically-locked at 300 km/h but the Competition Package fitted in it increases it to 305 km/h.
Mercedes-AMG E63 S
The AMG E63 S has a 4.0-liter biturbo V8 engine. The power unit is capable of producing 12 hp more than the M6 Gran Coupe and its torque is 150 Nm more than its rival. The figures allow the Merc to accelerate from zero to 100 km/h in mere 3.4 seconds. The maximum speed of the performance car is electronically-capped at 300 km/h.
Video
Watch the video below to see how each car fares when pushed to its limits:

And the Winner Is… (Spoiler Alert)
Both cars delivered their promise to deliver around 300 km/h. The dials of the two indicate that they even surpassed the limit.
The speedometer of the M6 Gran Coupe appears to have reached the 305 threshold. On the other hand, the AMG E63 S seems to have surpassed the competition, though the mounted indicator of the Mercedes shown in the video only read 302 km/h.
Furthermore, the Mercedes showed faster acceleration time than the BMW. The M6 looked shaky also after reaching the 300 km/h limit while the E63 S was more stable.
As an added note, the high-performance E-Class looked more stunning in terms of interior design than the M6.