Bentley's Supersized Super SUV: The EXP 9F Concept
Bentley walks into the newly inaugurated 'Super SUV' market armed with its EXP 9F Concept. With the 'F' representing its Falcon like power, agility and masculinity, the new Bentley mean machine makes a strong yet staggering first impression.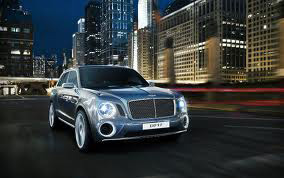 What meets the eye is the classic Bentley style matrix grille adorned with round headlights, but before you can admire its chiselled structure, its massive 23 inch alloy wheels distract you from everything else! When you do manage to take your eyes off its somewhat humungous exterior, step in to view the interior embellished with overwhelming paraphernalia composed of wood, leather and highly polished metals. With a seating capacity of 4+1, the EXP 9F is fully furnished to keep you entertained with its sleek infotainment screens connected with its iPad console, its panoramic flowing glass panel, comfortable silk lined armrests, powered footrests and cooled champagne compartment to keep the senses tingling. And if this wasn't enough to satiate your luxurious crib, the rear is incorporated with a sliding picnic table as well as two picnic baskets.
And what, you may ask, powers Bentley's shrine to opulence?  A 6.0 litre twin turbocharged W-12 engine assisted by an 8 speed transmission system and for the ecologically concerned, Bentley has proposed a hybrid engine with a 4.0 litre V8 powertrain. And if you ever feel the need to drive through challenging terrain or race on off-road tracks, then according to Bentley, the EXP 9F, endowed with three driving modes and a power packed engine, are the wheels you need!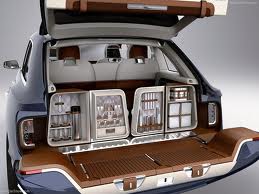 Never be left unprepared or under-classed with the storage capabilities of the Bentley EXP 9F Concept.
The EXP 9F unveiled at the Geneva Motor Show was not met with a response as monumental as its proportions. The moolah makers worried about its chunky frame. However, rest assured, with the Bentley spokesperson claiming that the design is "a little heavy handed", we know that the EXP 9F is back on the designer board. And for those who cannot handle the bling, if ostentatiousness is not your style, then Bentley was never your brand!