BMW 8 Series Reveals More With Thinner Camouflage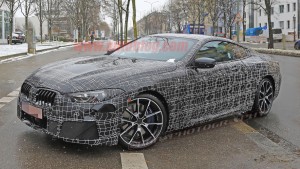 We've been talking nonstop about this particular luxury coupe ever since BMW teased us mercilessly with the BMW 8 Series concept. Now, we can have a closer look at the 8 Series after the German company decided to fit it with new and thinner camouflage.
At first glance of the new BMW 8 Series spy shots, what we can tell is that the car will have a curvy and lean body, but it won't be as aggressive as its concept version.
How The Front End Changed
Probably the biggest difference between the 8 Series concept and these spy photos is how the front of the coupe looks like. The concept showed a twin-kidney grille that sits low in the fascia, resulting to a dramatic drooping hood. The spy photos showed that the production version of the luxury coupe has a more conventional look with the grille downsized and raised up. The headlights are less squinty, the side vents in the lower fascia are toned down, the flanks on the sides are less curved, and the side vents are smaller.
What The Back End Looks Like
What remains from the concept is the long, gently sloping fastback roof. It trails into a subtle slope down the trunk lid. The difference comes in the form of a larger set of headlights on the production model rather than on the 8 Series concept. The tail is flatter, and lacks that sculpted masculinity shown on the concept. The exhaust outlets, which were integrated into the rear bumper (this was carried over), have been moved to the far corners.
When The 8 Series Finally Arrives
The production car for the 8 Series is supposed to arrive in 2020, though we're expecting it to make its debut in 2019 because the concept was also shown a year earlier. Two other variants will be available—convertible and M variants. A racing version might be under development too.