BMW Electric Crossover To Feature Level 3 Autonomy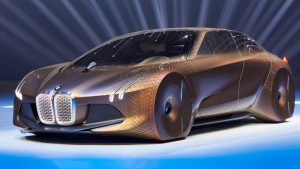 We don't know what BMW's upcoming electric crossover will be called, but what we do know is that it will arrive with a level 3 autonomy. So, whether or not it's called the i5, iNext, or something else, the BMW electric crossover has the ability to bring the level 3 autonomy to fruition, which will revolutionize the auto industry.
The SAE International defines level 3 autonomy as "conditional automation." Basically, it means the car can take over the whole driving mechanics and functions as long as the driver is in the car and ready to take command of the vehicle once required. Unlike level 1 or level 2 autonomy, the human driver can take his eyes off the road under level 3, as well as relax a bit because he doesn't have to handle the steering wheel either.
The driver would be able to text, make a call, or even read a book under this level 3 autonomy. However, he will be alerted if he needs to intervene and take over the car. It will be the system's responsibility to decide if it cannot function under the current conditions.
Kevin Marcotte, BMWi's national manager in Canada, told InsideEVs that the German automaker's use of level 3 autonomy in its electric crossover is the "next big thing for us in terms of leapfrogging the industry."  It will be a "major leap" for the autonomous driving technology.
For years, there have been rumors that the German automaker is working on a new electric vehicle—a crossover, some said. The reports about BMW's use of level 3 autonomy means that any doubts can be put to rest. There is indeed an electric crossover from BMW and although we aren't sure yet what it's going to be called, we have a little tidbit in the form of level 3 autonomy.
BMW recently announced its shift to electronic vehicles, including that it's calling the iNext that will introduce a number of new technologies. Apparently, that will be released in 2021 while the i8 roadster will debut next year. A Mini BEV is reportedly going to be launched in 2019 and the all-electric XBMW X3 will be unveiled in 2020.