BMW iNext and i4 Boast a 373-Mile Electric Range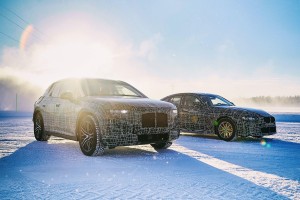 The BMW iNext and i4 are due to arrive in 2021. However, based on spy shots and updates of BMW, the electric vehicles are nearly ready and are already undergoing winter testing. It was revealed that each car will get at least 600 km or 373 miles driving range on full charge.
The figures of BMW came from the Europeran WLTP test cycle. We are yet to get the official EPA ratings of the iNext and i4 which are bound for the US market though.
According to reports, the EVs were recently spotted while being tested near the Arctic Circle. The tests aim to evaluate how the batteries, motors and other components will react to extreme cold weather conditions.
The iNext is a crossover that will have a Level 3 autonomous driving capability. It is poised to become the German luxury car maker's "technology flagship." The unit is based on the Vision iNext concept vehicle introduced at the Los Angeles Auto Show in 2018. The plant tasked with the assembly of the product is located in Dingolfing, Germany. The production is slated to begin in 2021.
Meanwhile, the i4 is a four-door car that will be positioned in the "premium midrange segment" of the company. The highlights of the auto include a 0-62 mph sprint in under 4 seconds while offering a luxurious ride. The vehicle will be produced in Munich in 2021.
The iNext and i4 were seen together with the iX3. The iX3 EV will be assembled in China and is expected to be launched in 2020.
The new models are parts of BMW's electrification efforts going to 2025. The company aims to offer at least 12 electric models in its dealerships by that period.