BMW M140i Bombs the Test Drive Video of the New Mercedes-Benz CLS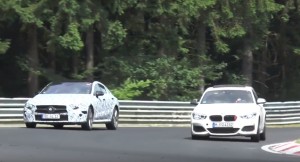 A new video revealed the all-new Mercedes-Benz CLS having its usual test drive in Nurburgring before its official unveiling. Apparently, it is not as quick and nimble as the BMW M140i.
The BMW M140i packs 335 hp in its 3.0-liter turbo inline-six engine. That allows it to sprint from zero to 62 mph in just 4.6 seconds.
Details about the specs of the upcoming Mercedes-Benz CLS are not officially available yet, but the basic model of its predecessor possesses a 4.7-liter biturbo V8 engine capable of delivering 402 hp. The new CLS should be along that line, so it was quite a scene when the BMW M140i was seen approaching the car at the 1:10 mark of the video.
The CLS looked like it was just minding its business when suddenly the M140i swooped pass the Merc during a sharp bend on track. Look at the 1:13 mark of the video where the Bimmer showed how agile it was.
It should be reminded though that the CLS is heavier than the M140i. Mercedes classifies it as a "four-door coupe". It is defined by its elegant styling rather than its performance. After all, it sits along the middle of Merc's E-Class and S-Class flagship car. However, having at least a V8 or an improved inline-six that is rumored to produce at least 500 hp, the expectations are heavy on this one. The current CLS can accelerate from zero to 60 mph in 4.9 seconds.
The new Mercedes-Benz CLS is set to make its public unveiling at the Los Angeles Auto Show starting from December 1 to 10. Those who want to see the car in the flesh should go to the LA Convention Center during the said dates.
Mercedes-Benz CLS Test Drive at Nurburgring Track
Check out the test drive video of the Mercedes-Benz CLS here that was bombed by the BMW M140i: