BMW Reveals 2002 Hommage Concept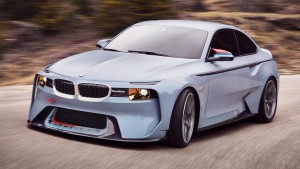 BMW just revealed its new 2002 Hommage concept, which was unveiled at Villa D'Este Concours event. This is nothing new as the company prefers to pay respect to the past through concepts such as the BMW CSL Hommage last year and the 328 Hommage from two years ago.
According to Top Gear, the 2002 Hommage will take the spotlight this year. Based on the BMW 2002 Turbo, the 2002 Hommage is most probably just an M2. BMW Senior Vice President Adrian van Hooydonk said that the 02 range started an era of success for BMW 50 years ago. That compact coupe was the foundation of the brand's success over the years.
The 2002 Hommage concept repeats BMW's most famous trait, which is the shark nose. But aside from that, the concept also has a huge front spoiler, a nod to the old 70s cars. The fascia has an aggressive design to go along with the single-light headlights that pay homage to the original 02 series too.
The sides have a smoother but more muscular design cues as the strong bodyline runs from the front fender all the way to the rear.
At the back, you'll find the twin dual exhaust outlets, a smooth rear fascia, an embedded reflector on each corner, and dark glass taillight lenses with two LED strips that emphasize the outer and lower edges of the lenses.
The car is painted in light baby blue with the upper half having a matte finish to prevent reflection from the sun.
The interior remains a mystery since BMW remains mum about it. But since this is patterned after the M2, expect to have M2's driver-oriented cabin inside.
We don't have information on the drivetrain of the car as of yet, though we're betting it would have the same 3.0-liter that delivers 365 horsepower and 343 pound-feet of torque on the M2.