BMW Starts Production Of 8 Series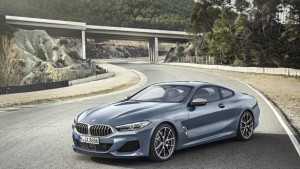 The range-topping, two-door BMW 8 Series has finally entered production, and the German automaker revealed the prices for the coupe. The car will be manufactured in the car's Dingolfing, Germany plant, which BMW spent hundreds of millions of Euros to update.
The plant is spruced up to include more automated processes to make the production of the cars more efficient. It installed autonomous tugger trains that can carry door assembly parts to the line while robots check for gaps and misalignments on the finish line.
The new 2019 BMW 8 Series coupe is fitted with a 4.4-liter twin-turbo V-8 engine that makes 523 horsepower and 553 pound-feet of torque. This engine is paired with an eight-speed automatic transmission and an all-wheel-drive system that has a rear-wheel bias. The German automaker said it can go from 0 to 60 mph in just 3.6 seconds. It has a top speed of 155 mph.
The total curb weight of the coupe is 4,478 pounds and this is made possible by a number of lightweight materials, including steel, plastic, aluminum, and carbon fiber. These are used throughout the body while the roof, doors, front firewall, and supporting structures are made of aluminum. Owners can also opt for the roof to be made of carbon-fiber-reinforced plastic, which is a first in a series-production BMW model.
Standard to the new 8 Series will be full LED headlights with laser light technology, special leather upholstery, a 16-speaker Harman Kardon sound system, Adaptive M Suspension with active-roll stabilization, M Sport brakes, and park assist. Owners, however, will be able to opt for the following: an upgraded Bowers & Wilkins Diamond surround sound system and glass controls for the gear selector.
The BMW 8 Series will enter the production stage with the 5 Series and the 7 Series. When it launches, it will be available in the M850i xDrive trim. Prices for the model will have a starting price tag of $112,895.