BMW X2 Crossover Spy Photos Released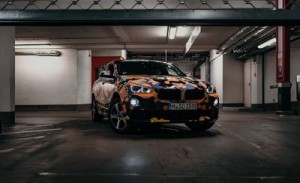 Apparently, BMW is not yet done with crossovers. We have seen what they did with the X4, the X6, the X3, the X5, and even the X1. While some of us loved the lineup of crossovers from the German automaker, others felt that the brand was trying too hard to compete with US and Japanese manufacturers.
Then, came the BMW X2 crossover. BMW released spy photos of the X2 Crossover in camouflage. Remember this was previewed as a concept during last year's Paris Auto Show? Back then, there was no excitement surrounding its design, which was actually seen as the more stylish version of the X1.
The BMW X2 was made essentially to provide the same functionality as the X4 and the X6, though the latest BMW crossover exchanged the X4's and X6's fastback shape for a more traditional roofline. This significantly ups the X2's design and style. It also has a lower height and higher window line, allowing the X2 to have a more proportioned and sportier body style than the X1.
To prove its more aggressive aesthetic, the X2 will also have an angry-looking pair of headlights and BMW's ever-popular kidney grille.
Similar to the X1, the X2 will also use BMW's front-wheel-drive-based UKL platform. Majority of BMW's global market will get a front-wheel-drive X2, but the United States may actually expect an all-wheel-drive for its market.
As for the power, BMW will be using a B46 turbocharged 2.0-liter inline-four engine with an output from X1's 228 horsepower. If you are looking for more power, the X2 might also offer an M Performance variant, which will add power, torque, and even better handling and driving experience.
We don't have any details yet on when BMW plans to unveil the X2, but  you might be able to see it before the year ends. Maybe the Frankfurt auto show in September is a good event to launch it? Sales and distribution should begin by 2018.