BMW X8 Flagship SUV Focuses On Rear-Seat Comfort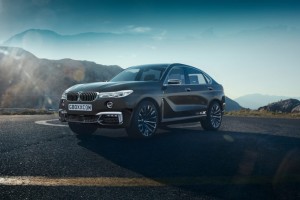 BMW X8 render. (Photo Source: BMWBlog)
New details about BMW's flagship SUV, to be called the X8, are emerging. Reports suggested that the BMW X8 will focus on giving rear-seat passengers a comfortable experience.
By all appearances before, the X8 didn't look like it would go the coupe-SUV route. What was understood before was that BMW would focus on maximizing the rear seats for the comfort of the passengers, especially the Chinese consumers which the X8 will be targeting.
But an Autocar report published on Friday said that the X8 will feature a sloping roofline and a more coupe-like design like the smaller X4 and X6. The BMW is planning to position the X8 flagship as a rival to the Range Rover and to the Bentley Bentayga and the Rolls-Royce Cullinan if the X8 will tick off every box on the options list.
Now, in addition to the rear passengers' extra space, the X8 will still feature a sloping coupe-like roofline that for most cars won't be able to accommodate the needed extra space in the rear side. The X8, however, will be employing modern architectural and engineering technology to make this possible even with a slanted roofline.
The platform to be used will prove to be difficult for the German automaker, though reports indicated that the engineers will likely take elements from BMW's CLAR modular platform and the Rolls-Royce Cullinan's aluminum architecture.
This means that the 2020 BMW X8 will only be a four- or five-seater to achieve a comfortable experience for rear passengers. The upcoming BMW X7, which the X7 iPerformance concept previewed, will boast three rows of seats for a total of seven seats.
BMW will trademark the X8 to numerous markets around the world, including in Asia and most particularly in China. A final decision on how the X8 will look like will be made later this year before the SUV is released in 2020.