Bollinger Motors To Introduce B2 All-Electric Pickup Truck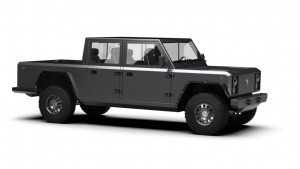 We are not even done ogling at the B1 all-electric sport utility truck that Bollinger Motors recently introduced and already the company is making announcements of a follow-up for the B1—an all-electric pickup truck called the B2.
A recent meeting with the guys over the Bollinger Motors revealed to Autoblog that they plan on making the B2 based on what they learned through the development of the B1, the company's first hardcore, off-road work vehicle. Bollinger Motors plans to harness the lessons from making the B1, including what people love about it and how capable it is, and put them into action in the new B2.
Both vehicles will share the same all-electric, all-wheel-drive system that packs a 120-kWh battery pack, powering a pair of electric motors. They also have the same trick hydropneumatic suspension and in-wheel portal gear hubs. The last one will provide a serious ground clearance for both vehicles.
Robert Bollinger, Bollinger Motors founder, CEO and designer, said that the new B2 plans to incorporate "everything that we've learned in making the B1, and takes it in an exciting new direction." The plan has always been to start off the Bollinger Motors' lineup with the B1 and the B2 but now that the data from testing the B1 prototype is available, it has become easier for Bollinger Motors to start the development of the B2.
" We can put all of that engineering knowledge into our final four-door B1 and B2 vehicles. It's the pickup I always wanted and something crazy better than what's available on the market today," Bollinger stated.
The difference between the two all-electric trucks is the B2's proper pickup bed, which is reportedly 49 inches wide by 69 inches long. When the tailgate at the back is flipped down, the bed can accommodate about 72 full sheets of plywood with the rear glass open.
Seeing as the B2 has been classified as a Class 3 truck, this means that the gross vehicle weight rating will be 10,001 pounds and a payload of 5,000 pounds.
Bollinger Motors plans to build the B2 on the same assembly line as the B1 truck in 2020. More details should come in the next months.