Brand-New 2013 Land Rover Ranger Rover Drops an Amazing 700 Pounds
Have all those summer parties with cakes, ice cream, and BBQ been catching up to you? In the same way that it's easier to gain weight than lose it for drivers, the same is true for their automobiles. With all of the new technology, comfort, and safety features available in today's auto world, it's easy for the weight of vehicles to creep up quickly. One way to combat this weight gain is by using lightweight materials. British auto brand Land Rover understands this fact, and its experts have put their good sense to use with the 2013 Land Rover Range Rover, which has been given a weight reduction of an amazing 700 lbs. this year (as compared to the model it replaces) due to its all-aluminum unibody structure.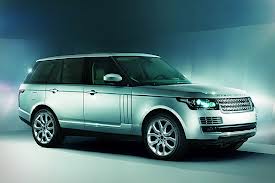 So why is a lightweight vehicle ideal? First of all, it's easier to handle and more aerodynamic, which also means that it's faster. Secondly, and perhaps more importantly, a lighter vehicle achieves greater fuel economy ratings. In order to keep up with consumer demand for fuel-efficient vehicles (not to mention government regulations) it's important for automakers to make vehicles as light as they can possibly be without skimping on luxurious features. And, in the case of the new Range Rover, cutting 700 lbs. of fat without shrinking the size of the vehicle at all is quite impressive.
The upcoming Range Rover will boast a body structure that's 39 percent lighter than the current model, though it still weight a rather heavy 5,000 pounds. And, though the vehicle has been lightened by 700 lbs. in the U.S., in other markets it's been reduced by up to 926 pounds.
2013 Land Rover Range Rover Specs.:
– It's roomy: This Range Rover boasts 4.7 more inches of rear-passenger legroom when compared with the previous generation and is available in four-seat configuration and is much less cluttered-looking than the 2012 model.
– Powerful Engines: A choice of V8 engines is available and include a (rumored) supercharged V8 (Jaguar offers a 5.0–liter engine that produces between 470-550 horsepower) and a naturally aspirated 5.0-liter V8 engine that works with an eight-speed automatic transmission. We'll have to wait to see if the horsepower stays at 375 or increases, and straight-line performance could benefit from the lost weight. These are the U.S. engines; others could be offered in different markets.
– Off-Road Capability: Expected to be the same as the heavier model or better, with the most recent Terrain Response electronic system and improved ride and handling. The Range Rover has also offered impressive off-road power, but this year's standard-road-drive could be smoother than ever.
More information will be released about the 2013 Land Rover Range Rover when it's formally introduced at the Paris Motor Show next month, with deliveries scheduled to start in December of this year.
Be sure to stay tuned with reviewitonline.net for more new car reviews and the latest auto news. We're always up-to-date on the latest happenings, and we can't wait to share our discoveries with you!