Bugatti Chiron In NYC For Private Show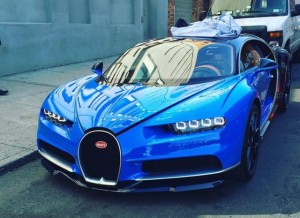 The Bugatti Chiron made its debut last month at the Geneva Auto Show, but it was absent during the 2016 New York Motor Show in late March. Bugatti's new 1,480-horsepower hypercar will replace the Veyron.
Although the Chiron was not present during the NY Auto Show, it wasn't really far from the action as the same blue example shown in Geneva was spotted parked at the curb in the Big Apple according to Motor Authority.
The photo shown was posted on Facebook by a Bugatti Chiron fan. The hypercar's front trunk was even unlatched.
It wasn't clear why the Chiron was in New York when it didn't attend the motor show to begin with, but it was more likely there to be privately presented to prospective buyers who flocked in Manhattan for the NYIAS.
Chiron has been enjoying massive demand and orders. During the car's launch in Geneva last month, it claimed a third of the planned 500-unit production. The starting price is at 2.4 million Euros, in case you're interested. That's roughly $2.73 million.
With the price tag, Bugatti said the car is actually making a profit compared with the Veyron, which was rumored to have been selling at a loss.
The Chiron has an 8.0-liter W-16 engine with a two-stage turbocharging system. There are four turbos, with two designed to be always on while the two other are electrically actuated when the driver wants more acceleration.
That engine churns out 1,500 horsepower and 1,180 pound-feet of torque. It's more powerful than the Veyron, but the acceleration is just 2.5 seconds to 62 mph. the top speed is 260 mph, but Chiron is aiming for more with a "top speed more" that can be activated by a special key.
The company calls the headlights up front an "eight-eye face" with an active wing on the rear for the air brake. It also has 20-inch wheels on front and 21-inche wheels at the rear, as well as eight titanium brake pistons at the front and six at the rear.