Cadillac Escala Concept Car Unveiled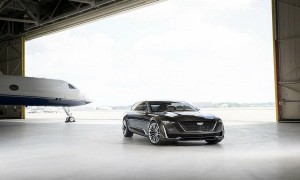 Cadillac revealed a new concept car at the Pebble Beach Concours d'Elegance in California on Thursday. The luxury car division of General Motors unveiled the Escala.
According to the company's official media site, the Cadillac Escala concept car is a rear-wheel drive four-door sedan. The auto appears to be an evolution of the brand's Ciel convertible concept launched in 2011 and its Elmiraj coupe concept that debuted in 2013.
Based on the statement of Johan de Nysschen, the president of Global Cadillac, the Escala embodies the next design language of the luxury car brand. It also possesses the technology that future Cadillac models will carry. Moreover, the vehicle signifies the brand's comeback to the top of the premium car market.
The company explained that Escala is a Spanish word for "scale." They chose to name the luxury sedan concept as that because it is considered to be the larger, more elite and expressive companion to the 2016 Cadillac CT6.
The Cadillac Escala measures 210.5 inches in length. It is approximately six inches longer than the CT6 model. On the other hand, its width is at 76.7 inches while its height and wheelbase are 57.3 inches and 127.1 inches, respectively.
The Escala is fitted with a 4.2-liter twin turbo V8 engine that Cadillac has been developing. So far, there's no word yet regarding the output of the power unit but the company revealed that it has an Active Fuel Management technology. The feature allows better fuel-saving for the four-cylinder operation of the car. Again, the unit is expected to be carried over to the upcoming models of the luxury automaker.
Among the other noteworthy features of the Escala include Cadillac's signature vertical headlamps. The lighting is equipped with organic light emitting diode (OLED) for better illumination. The grille design takes a three-dimensional precision pattern as well. To top it all off, the automaker fits the car with 22-inch wheels with two-layer spoke designs.
Other technological treats that the Escala has in store for customers is its better connectivity functions, including voice and gesture controls.
The surfaces inside the Escala are covered in hand-tailored fabric. The materials and styling are made possible by the partners of the brand in the fashion industry.