Carlos Ghosn Resigns As Renault's Chairman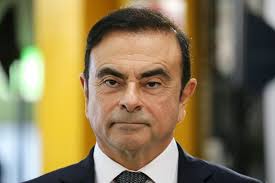 Former Nissan chairman Carlos Ghosn voluntarily resigned as Renault's CEO and chairman following his arrest in Japan in November over allegations that he understated his pay and used company assets for personal investments.
Renault confirmed Ghosn's decision to step down from the chairmanship after a board of directors meeting. Ghosn is still in jail in Japan and has recently been denied bail once again. He spent his Christmas and New Year in jail. Renault also confirmed that a new CEO and chairman has been named.
As expected, former Michelin chief executive Jean-Dominique Senard was elected as the French company's new chairman during the board meeting. Theirry Bollore, who ran the business during Ghosn's absence, will be Renault's new chief executive.
Following his appointment as CEO, Senard will also be the chairman of the Renault-Nissan-Mitsubishi alliance which Ghosn headed.
In November, Nissan's board of directors voted to sack Ghosn after he was indicted in Japan for understating his pay. Nissan's internal investigation also alleged that the disgraced former executive used the company's assets to cover the loss of some personal investments.
In its investigation, Nissan further found out that Ghosn and former deputy Greg Kelly reported compensation amounts in the Tokyo Stock Exchange securities report that were less than the actual amount. The misconduct happened "over many years."
Nissan provided the information to the Japanese Public Prosecutors Office as they have been fully coordinating with the investigation, a statement from the Japanese auto company said.
Nissan then apologized to its shareholders and stakeholders for the risks and concerns Ghosn's actions produced. "We will continue our work to identify our governance and compliance issues, and to take appropriate measures."
The Renault-Nissan-Mitsubishi alliance, however, a long-standing partnership among the three companies, will remain "unchanged" even as one of its founders has left the group.