Check Out the Leaked Photos Of The McLaren 688HS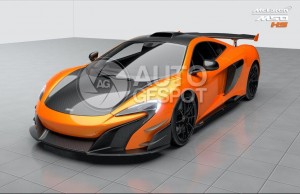 If you think there's nothing more dangerous for the supercar industry than McLaren's 666-horsepower 675LT, then you're dead wrong. The company is looking at readying another supercar to add to its roster of Super Series. Sources said it could even be faster and more performance-ready than the 675LT.
The Dutch auto website Auto Gespot released photos of what is reported to be a 688 High Sport. It can be remembered that McLaren's last High Sport, called the HS, was based on the 12C Sports Coupe. It came with few visual modifications and a boost in power.
The new McLaren 688HS will follow its predecessor. The 688 in the name is in reference to the supercar's ability to produce 688 metric horsepower or about 678 horsepower by American standards.
When it comes to the car's exterior, the 688HS won't fail you. The bodystyle's sleek and elegant lines would make your eyes pop out from the sockets. At first look, it clearly shares the same features as the 675LT, especially with the stretched body.
The fixed rear wing, on the other hand, resembles the one used on the 650S GT3 race car. There are also some winglets on the front bumper—also resembling the ones on the GT3 race car.
The new 688HS is a creation of the McLaren Special Operations personalization department, much like the previous 12C HS. This means that production of the new supercar will be limited; probably only 25 units of the car would be out in the market and up for grabs.
It's quite selfish of McLaren to release another supercar on the high-end market, especially because it has just successfully launched the 675LT and the 675LT Spider—both sold out in two weeks even amid the skyrocketing prices.
The McLaren 688HS will reportedly make its formal debut in September's 2016 Paris Auto Show. More updates are expected to come in the next days.