Check Out the Spy Shots Of 2017 Volkswagen 3-Row SUV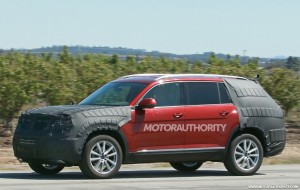 Two years ago, Volkswagen confirmed that it has plans to build a new three-row crossover SUV at its plant in Chattanooga, Tennessee. Now, merely months after the production started, spy shots of the prototype have come out.
According to a report, the new Volkswagen 3-Row SUV was first seen in early 2013 by the CrossBlue concept. No one knew if the concept would be carried over to the actual production design, but the spy shots now confirmed that the production version will resemble the 2013 concept. Of course, we couldn't see it in its entirety so the finer elements are still a mystery.
This new SUV is Volkswagen's challenge to the ever popular and family-oriented three-row SUVs such as the Chevrolet Traverse, Ford Motor Company Explorer and Toyota Highlander.
It will be based on the stretched version of VW's flexible MQB platform, enabling the SUV to be offered at a lower cost. That platform was the same one used in the smaller Golf and the North American-spec Passat currently being produced at the Chattanooga plant.
Those who seek for a plusher ride can wait for the new generation Touareg that'll come out next year.
There is no information yet on what drivetrain would be used on the SUV, although it is expected to come out with a 4- and 6-cylinder option. The CrossBlue concept had a hybrid powertrain that pairs the 4-cylinder diesel engine with an electric motor.
But since there are current issues on VW's use of diesel engine, then perhaps a gasoline-electric hybrid setup will be offered in the production version. Volkswagen's 2017 3-Row SUV would most likely debut later this year or early next year.
VW also has other SUVs in the pipeline, including the new Tiguan and Touareg, as well as the production versions of the T-Roc and T-Cross Breeze concepts. There would also be coupe-like versions of the Tiguan and this new three-row SUV from VW.