Check Out These Spy Shots of the 2018 Jeep Wrangler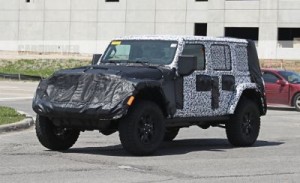 The Jeep Wrangler sports a classic, rugged and unique look combined with reliability and performance even on rough roads. The said features allowed it to survive the market since it came into production in 1986. Recently, a new model of the vehicle was spotted and spy shots of it were taken.
According to Car and Driver, which is the source of the latest spy shots, the new Wrangler will be unveiled before 2017 ends. The auto will be sold under a 2018 model year. It is estimated to cost near the $25,090 price tag of its current model.
1. Engine
The report claimed that the 2018 Wrangler will be available in diesel and hybrid versions. The vehicle was confirmed to get a 3.6-liter Pentastar V6 engine. There are no details yet about the possible output of the auto but the source mentioned that it will take either an eight-speed automatic transmission or six-speed manual gearbox.
It added that the new Wrangler will be available in a four-wheel drive system with manually-operated transfer case. There is also a possibility that the upcoming Jeep will offer a turbocharged four-cylinder engine unit before the diesel and hybrid powertrains arrive.
2. Body
The 2018 Wrangler is expected to carry a new platform, which will be lighter than the one supporting the current model because of its more use of aluminum. The auto will have two-door, four-door and pickup designs.
3. Interior
The multimedia console of the Wrangler will receive significant upgrades. The infotainment touchscreen in high trim models will have better response and easier to operate, thanks to its Uconnect 3.0. Moreover, the article estimated that the touchscreen of the auto will measure 8.4 inches diagonally for the high-end units while the lower end trims will have the 5.0-inch screen.
Furthermore, there appears to be updated climate control system for the new Wrangler plus sound system controls as well as parking assist sensors, start-stop function for the engine, and heaters for the steering wheel.
Photos
Check out the spy shots of the 2018 Jeep Wrangler in the gallery below: