Chevrolet Announced A Camaro 50th Anniversary Edition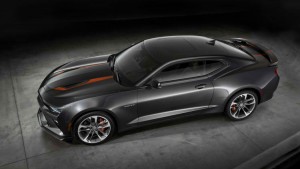 Chevrolet is marking the Camaro's 50th anniversary with a special edition trim level loaded with all the best aesthetic touches imaginable according to Motor Authority. The first Camaro entered the auto scene in 1967, so the Anniversary Edition will arrive in time for 2017.
Chev actually launched the first Camaro on September 26, 1966 but by then, Ford Motor Company's Mustang, which debuted in 1964, already developed quite a following. This was a challenge for Chev, but thanks to careful positioning and aggressive marketing campaign, the Camaro was well received.
From here automobile's greatest rivalry began. The current Camaro is the sixth generation of the brand.
The 50th Anniversary Edition will be in Nightfall Grey metallic paint with an orange and black stripe running from nose to tail. Convertible models would have a black top.
It has a unique 20-inch alloy wheels that cover the orange and black calipers (available at front only for the V-6 powered models) that adds some extra color to the edition's dark appearance. It will also have orange stripes on the hood, a front splitter, and a mesh grille, which has a satin chrome trim.
The anniversary edition also has the special "Fifty badges" on their front fenders. Inside, the 50th Anniversary Edition models have an all-black interior with suede inserts and orange stitching and badges on their seats. There are also badges on the instrument panel, seatbacks, steering wheel, and illuminated sill plates.
This anniversary package will only be offered on top-trim versions of the V-6 and the V-8 powered Camaros, the 2LT and 2SS, respectively. It also includes the RS Appearance Package.
The combination of tweaks creates a handsome Camaro. The pricing is still not available for the 50th Anniversary Edition since GM spokesperson Tara Kuhnen said it won't be released until a later date. Expect it to be released this summer.