Chevrolet Corvette ZR1 2015 Comes Roaring!
Chevrolet has been around enough number of years to know the tricks of the trade. The American company has a tight grip on what makes people go gaga. Some times, interestingly, it doesn't have to be a well-engineered beauty or a sturdy beast. Some times it just has to be a piece of information that sparks conversations, awe and leads to uncontrollable curiosity. And everyone knows curiosity is the fuel that keeps the motor world running. So, we can safely conclude that it is one helluva stage for the upcoming Chevrolet Corvette ZR1 2015. We just can't wait for the curtains to be raised!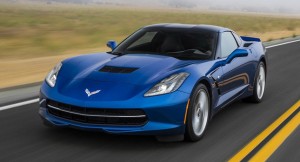 The most important story that has come floating our way is that the new Chevrolet baby, Chevrolet Corvette ZR1 2015 is likely to be a mid-engined creation! This little piece of information was enough to get motor enthusiasts all excited and amazed, at the same time! Who would have seen that coming? And for all those who are discarding this as one of the many rumors traveling the town, several sources have confirmed unanimously that the upcoming Chevrolet Corvette ZR1 2015 is indeed going to be mid-engined. Like that wasn't thrilling enough, some wise man went ahead and sprinkled the rumor with more spice. Going by that, Corvette C8 is likely to have its engine fixed in the middle! Before you can catch your breath, there are many who even set their eyes on its rendering that has been carried out by none other than Tom Matsumoto.
In Chevrolet world, there is never a dull moment. For all of us here who have been following the happenings in the company would agree that the flurry of new stuff never takes a break here. Which is why we might have another sccop for you. Yes, you bet, as exciting as the previous one or who knows spicier and more exciting. So, while you have your heart racing over the Chevrolet Corvette ZR1 2015, get ready to be hit by another big news. Very recently, Chevrolet bought the name Zora and specified it was going to be used for automobiles! So, you have all the right to take a big leap, jump beyond 2015 and stand face to face with a creation by Chevrolet that is called Zora!
Though there are no confirmations from the company really, we have heard that it comes in the wake of honoring the great man who contributed to making Chevrolet what it is today! If that is true, we must say we are truly impressed with the company's honorable intentions. What a great thought that is going to give us a great creation, too! And, wait, now we get the whole mid-engined stuff that has come up. Zora, in his times, was of the view that mid-engine offered low polar-moment of inertia, which was vital for the functioning of a sports vehicle!
So, suddenly we have our eyes set on Chevrolet Corvette ZR1 2015 but we are definitely ready for more!