Chevy Silverado, GMC Sierra To Receive Interior Upgrades Soon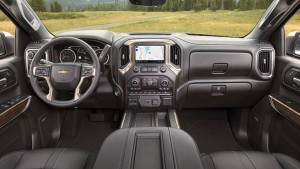 Reports are coming in and it looks like the Chevrolet Silverado and the GMC Sierra, both 2019 models just released, will get an interior update for the 2021 model year.
So, why is a major change coming to both models after the launch of an all-new model? It doesn't seem like the type of plans Chevrolet is known for—launching 2019 models and bringing significant changes (albeit in the interior) in under two years. But GM isn't working on its own timeline. It's working against Ram's all-new 2019 1500 pickup.
The positive response to the new 1500 pickup was enough for GM to want to start anew for its Silverado and Sierra. The plan is to fit these two models with a more upscale interior—especially on the higher-end trim levels.
The report did not give any more details about what the changes could be. It described only a revised center stack that will feature a larger infotainment screen. The materials and smaller details used in the interior will be changed to make way for more environmentally-efficient materials. And since there are criticisms against the Silverado's and Sierra's exterior design, maybe we can expect a few tweaks in that direction, too.
With a new Ford F-150 coming in 2021, these proposed changes in the Silverado and the Sierra are not too far-fetched.
Thought the interior for the current cars is not bad, it didn't have any major upgrades from their 2017 models. And that's a bad thing, considering the number of new technologies that have been launched since then. Ram, on the other hand, probably has one of the most beautiful and generous interior setups of all time.
Sales for both the GM trucks have been falling while the Ram 1500 truck continues to report soaring figures, thanks in part to the success of the previous-generation Ram Classic.