Coming Soon: The 2019 Audi A6 Allroad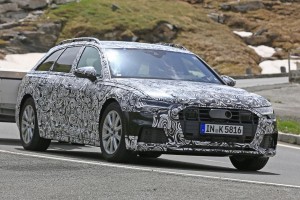 At first, the prototype for the new Audi A6 Allroad looks like an old test mule for the Audi A6 Avant, but the higher stance makes us believe we're looking at the new A6 Allroad, which is slated to arrive in dealerships early next year.
The prototype is heavily camouflaged, so it's hard to make out details from that. Though there's no official word yet from Audi, the A6 Allroad looks to be riding on a higher stance than the standard A6 Avant. Look at the photos more closely, and you'll notice that the A6 Allroad has more space between the car and the road.
The A6 Allroad shares the same aesthetics as the standard A6 Avant. They have the same headlamps and front grille combo, though the bumper, the fenders, and the side sills are wider and more flared than the Avant.
As far as the interior is concerned, the new A6 Allroad should share similarities with the Avant. The deep panels would showcase itself again on the Allroad, as well as the dashboard and center console configuration. It should also have the new seats with its ventilation and massage functions.
The instrument cluster will feature the new Virtual Cockpit by Audi. It will house a 12.3-inch digital readout that will provide all the important information and details about the car. Drivers would have to get used to the new cockpit, but this has the potential to become one of the most important features in an Audi vehicle.
There's nothing new on the powertrain front, unless Audi has a surprise for us. The A6 Allroad will likely feature the same engine options as the standard Avant, except for the four-cylinder units. That being said, this means that the base model would come off a 3.0-liter TFSI V-6 engine that can produce 340 horses and 369 pound-feet of torque. Of course, Audi could tune up the output for the engine. The V-6 engine would most likely be paired with a seven-speed S Tronic automatic transmission.
The Audi A6 Allroad should be revealed at the 2018 Paris Motor Show, and would be available in dealerships sometime in 2019.