Daimler Plans to Drop the Mercedes-Benz X-Class Pickup from the Production Line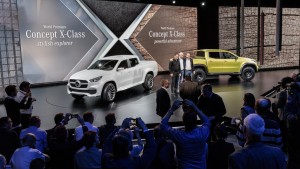 Daimler AG, the parent of Mercedes-Benz, earlier warned investors about a slump in its profits in 2019. As a way to prevent further losses, the company is planning to focus on its key products and drop some of its underperforming models in the market. With the low sales of the Mercedes-Benz X-Class, it has become a target in the automaker's streamlining efforts.
The future of the X-Class now looks bleak despite the warm welcome it received from critics during its unveiling. Based on a report by Automotive News Europe, the Mercedes pickup truck has been struggling in the market. Only 16,700 units were delivered to customers since its rollout in dealerships. The figures also failed to generate enough income for the luxury brand. As a result, insiders revealed that the production of the model might be halted by its maker soon.
Another key issue in the X-Class is its pricing. The pickup's starting price is at €37,294, and the V6-equipped variant begins at €48,790. The numbers are way too steep compared to its competitors such as the Volkswagen Amarok, Ford Ranger and even the Nissan Navara, which it shares a platform with.
The X-Class recalls plaguing Mercedes could play a role in the axing of the pickup too. The first was a software problem in the tire monitoring system of the auto. The next involved the braking system of the vehicle.
Although the information is yet to be confirmed, the problems surrounding the Renault Nissan Alliance partnership with Daimler could also be put into the table during the evaluation process. Previously, the same source claimed that Ola Källenius, the new CEO of Daimler, no longer plans to renew the said cooperation. Instead, he plans on focusing on the company's partnership with rival BMW.
Mercedes was keen on expanding the X-Class range by introducing a V6-powered version of the unit. A V8-engined variant was put into consideration as well. However, with the unfortunate developments surrounding the product, all plans might be scrapped for good.