Details About The 2019 BMW Z4 Released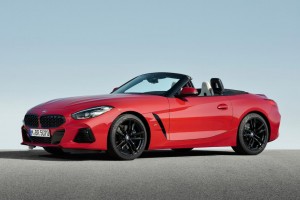 Last month, German automaker BMW unveiled the 2019 BMW Z4, which sports an aggressive look for the new-generation model. Up until now, though, BMW has been short on details about the new roadster, especially when it comes to the engine options.
Thankfully, we now have detailed report about the new Z4, which will start selling in March 2019. The Z4 will initially launch with the sDrive30i variant. The model is powered by a turbocharged 2.0-liter I-4 that makes 255 horsepower and 295 pound-feet of torque. In the second quarter of the year, the Z4 M40i variant will follow with a 3.0-liter turbo I-6 that will produce 382 horsepower and 369 pound-feet of torque. It's the same as the prototype revealed earlier.
Both engines will be paired with an eight-speed automatic, which is the only transmission available for the Z4. The sDrive30i can reach 60 mph in 5.2 seconds while the M40i can hit it in 4.4 seconds.
This next-generation Z4 is bigger than its predecessor. It stands 3.3 inches longer, 2.9 inches wider, and 0.5 inches taller. The wheelbase, however, is 1.0-inch shorter. There's a new platform underpinning the car and it enjoys the double-jointed front spring struts and a five-link rear suspension. This is a first for any BMW roadster.
The suspensions are made with aluminum, which will make the 2019 Z4 lighter compared to its predecessor. As for handling, the roadster will have a new steering system with variable power assist and ratio to improve precision and make low-speed maneuvering easier.
The M40i, in particular, will get an adaptive M suspension with a 10-mm lower ride height, M Sport brakes, and an M Sport differential as standard. You can also get these with the sDrive30i as options. There will be three modes: Comfort, Sport, and Sport+.
Driver assistance tech will be standard. It includes collision warning, automatic emergency braking, pedestrian detection, and lane departure warning. Options are blind spot warning, adaptive cruise control with stop and go function, rear cross-traffic alert, and a new rear collision protection system.