Elon Musk Says Tesla Model 3 Performance Version Will Arrive Next Year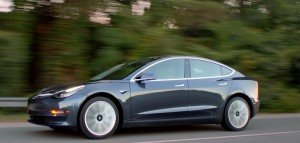 Tesla finally handed over units of its Model 3 to those who had it reserved months ago. Although the production are only in small numbers, more are expected to come as the electric car manufacturer is ready to roll out performance versions of the Model 3 next year.
Tesla is gearing up to boost production of the Model 3 in the Long Range trim because a new version is expected to come out next year. The Model 3 has an estimated EPA of 310 miles range, which will probably increase significantly when the performance variant debuts next year.
Tesla CEO Elon Musk answered questions about the Tesla performance variant on Twitter. It can be recalled that Musk hinted last year that after the production of Model 3 went full swing, a performance version would be in the works.
He told Twitter user Ryan McCaffrey (@DMC_Ryan) that a performance variant will probably debut by the middle of next year. "Focus now is on getting out of Model 3 production hell. More version = deeper in hell," Musk said.
The problem is that while Tesla is in the middle of producing the Model 3 according to the demands of the market, more pressure will be put on it once more variations of the car come out. For now, it's the Long Range Model 3 that is available to the market. The base model of Tesla's most affordable electric vehicle will be available this fall.
The base model is priced at an affordable tag of $35,000, and it has an EPA-estimated 220-mile range.
Tesla was the first company to prove to the auto industry that electric cars can be fun, too. Its Tesla Model S was the one who introduced dual-motor configuration, which led to the P100D. The performance variant of Model 3 will likely use a similar motor design, though it might not be as powerful as the P100D.