Enter Toyota GT86, Goodbye Scion FR-S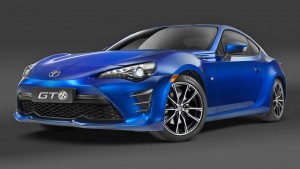 Say hello to the new Toyota GT86, which looks quite like the car it will replace. Much can be said about how well loved the 86 is, especially because it won several awards since its conception.
According to Top Gear, there are mild updates in the GT86, the facelift of which coincided with the introduction of the Toyota 86 in the US. These are all ongoing amid the departing of the Scion FR-S.
If you're looking for turbocharged cars, then this auto might not be the one for you as you will be left wanting for more torque and grip. That is, of course, if you've lived all your life with mighty fast vehicles since the GT86 has very decent speed as well.
There are upsides, though, for speed-loving car enthusiasts. The Toyota GT86 has a slick gearchange, and is agile as a light, simple rear-driven sports car. Also, it packs a decent 197 bhp, 0-62 mph in 7.6 seconds with 140 mph top speed.
So, what are the changes? You can see all these changes on how aesthetically appealing the new GT86 is. It has new LED-equipped lights, more dramatic bumpers and air intakes, as well as new and flashier alloy wheels. Compared to the older version, the new 86 looks a bit more on the luxurious side. It looks more assertive than before too.
Inside, Toyota promises to provide "improved sensory quality, leather interiors, Alcantara, and a new sports steering wheel. That same wheel now comes with audio controls—a first for the 86. Unfortunately, there are no pictures of the GT86's interior yet to prove these features.
Toyota has yet to release the prices and full specifications for the new 86, but sources said it won't go more than the £25,000 range for the entry level. Sales will supposedly begin by fall.
More information about the Toyota GT86, as well as the car itself, will be revealed during the New York Auto Show.